Hello everyone! If you have been following along for a while then you know that things are all about kitchens 'round these parts these days. We are still knee deep in our own kitchen renovation (it got put on hold by our "rental project") but that has just wrapped up and I have several big projects to share with you soon!
In the meantime, Spring Break has arrived, and we are taking some time together as a family (I will be sharing what we are up to on Instagram over the next couple of weeks). While I am gone I have lined up some fabulous kitchen tours from a few of my favourite bloggers who have great success in building or renovating their own dream kitchens. I just know you are going to find amazing inspiration in this series.
Today I want to welcome over my friend Tara from Suburble!
Not only does Tara write an amazing blog full of DIY, crafts, recipes, humour, and witty diatribe… but she is a ton of fun in real life as well! I was thrilled to travel with Tara and Jamie to Haven last July in Atlanta, and she was a great source of comfort while I screamed over the slightest bumps and jumps on the airplane. Oh ya, and an amazing support when I left my passport at the hotel too… But enough about that – Tara and her family recently purchased a new home and have been working away at adding their own personal touch to every inch of it, like this amazing builder basic kitchen makeover.
Take it away Tara!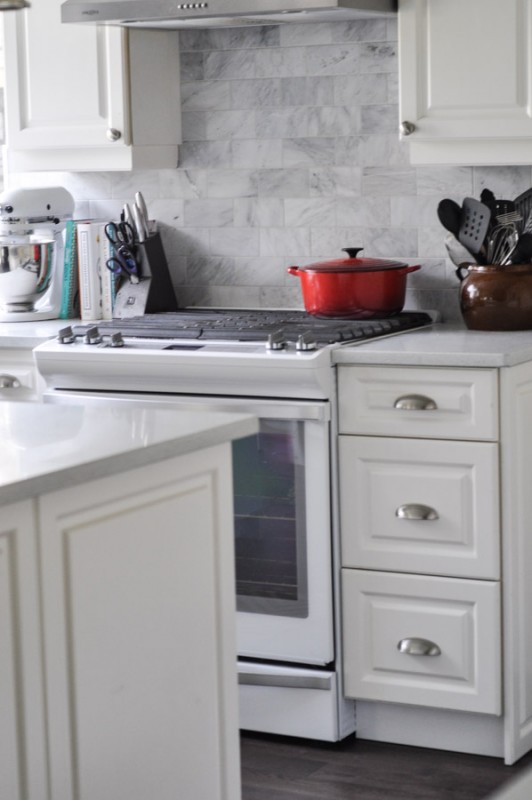 Hi all of you fellow Happy Housies! I'm Tara, and I blog at Suburble.com. I'm so thrilled that Krista has asked me to participate in her Kitchen renovation series. Hers is gorgeous – I'm sure you'll agree – and I'm honoured to be a part of this collective!
Our kitchen renovation was one that seemed to fall into place… without really having a clear plan.
And while you might be tsk-tsking at the lack of having a design and blueprint and scattering of countertop samples at the beginning of my project, you'll have to learn why.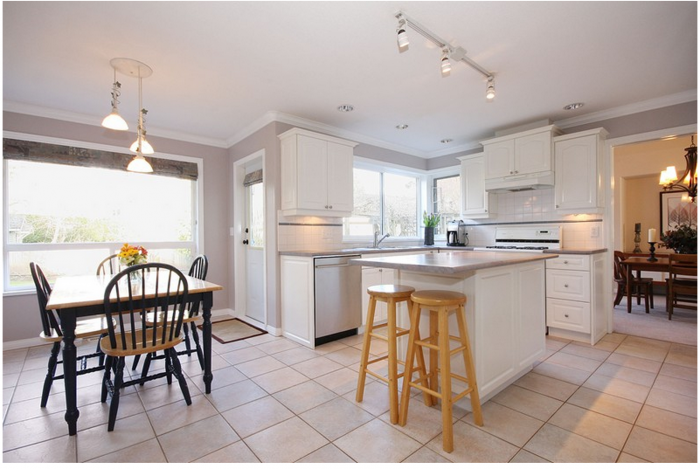 Here is the before. There isn't much wrong with it. It's just a bit dated. And pink.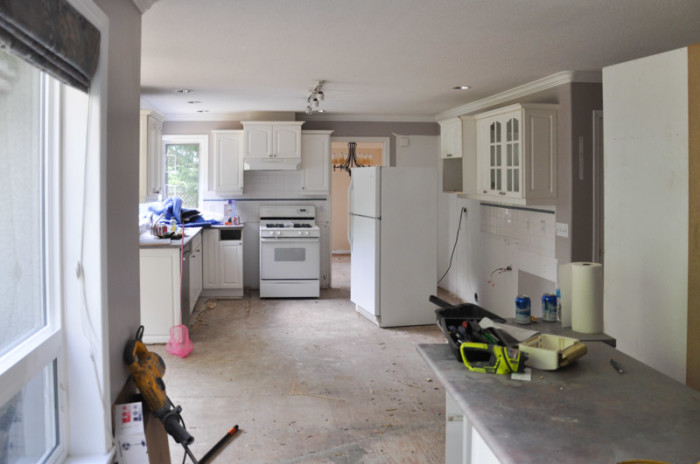 And this is what happens when Tara gets her hot little hands on things. She rips them apart, leaving her husband standing there, woebegone, thinking, "Who is going to put this back together?"
Oh, sweet husband. It may have taken a bit longer than we thought, but we got it back together.
Our kitchen renovation – in the grand scheme of things – was actually fairly inexpensive. You could even say it was… wait for it…. on budget.
Yeah. I know. That never happens. Ask the rest of my house.
We renovated a large portion of our house upon moving in this past summer – one project being the completion of our unfinished basement – and we did not have a heap of extra cash to dump into the kitchen.
The cabinets were white. I would have bought new white cabinets anyways (probably shaker style, as that's the cabinet du jour), but really… what was there was good enough.
It would be great, with a little bit of bling.
We replaced the (purple!) countertops with white quartz, and the appliances with my new slick Whirlpool White Ice models, and the sink and faucet with a much flashier design.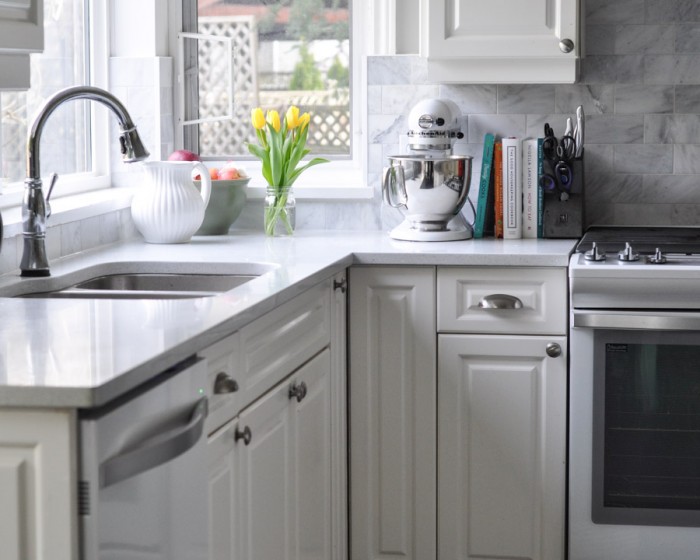 A huge impact was replacing the cabinet hardware with more updated pieces. The chrome cup pulls and larger knobs rejuvenated the cabinet faces. Mr. Suburble was skeptical, but I grabbed my drill and my courage and got down to it.
And I'm so glad I did. My 20 year old cabinet faces have never looked better. And better yet – they came with the place.

Our backsplash is white Carerra marble subway tile with a white grout. I got a bit of flak from friends and family about how white my kitchen was going to be. For a second during the renovation – where dust and piles of garbage are all that you can see, and the doubt starts to rise in your throat – I second-guessed myself.
"Will it be too white? Will I feel like it's devoid of personality?"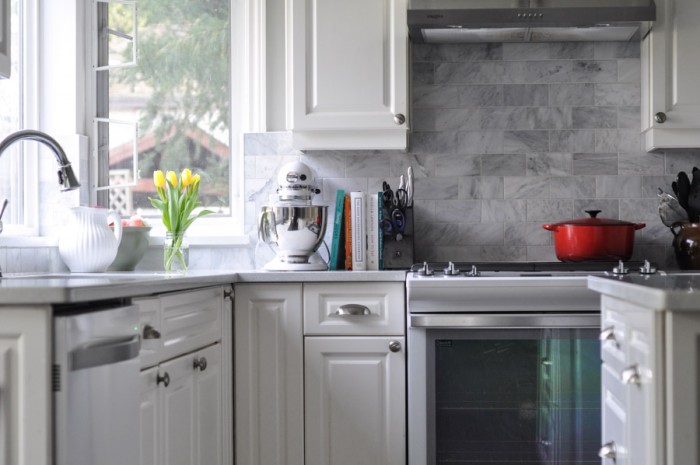 I was worrying for nothing.
It's a space that is light and bright and easy to accessorize. I can put nearly any flower, pot, or accessory in this space – and it works.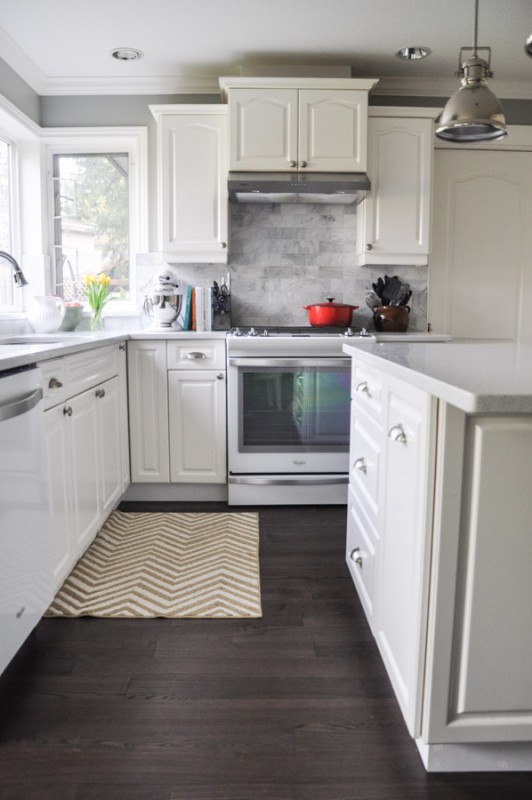 I won't lie – the floors are one of my favourite parts of the renovation. We opted to go for silk-oiled engineered hardwood.
It's fabulous stuff. Considering that it's dark wood, it hides SO many stains, spills and flaws. And that has to do with both the grain and the fact that the floor is matte. It's oiled – not polyurethaned – so there is no shine to it. Once a year we will put a coat of oil on it, and it will be fresh and new again.
Seriously. Check this stuff out. I do not regret a single cent I spent on this floor.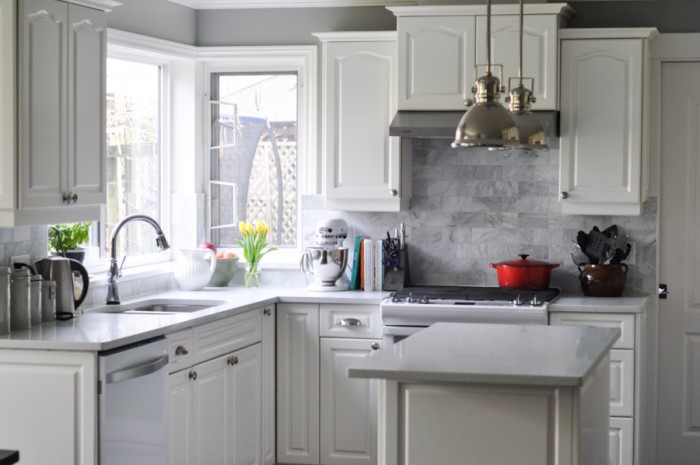 When I look at my kitchen, I love how it looks. I don't regret keeping the cabinets – or lugging them around from room to room and hearing contractors sigh when the island was abandoned in the living room – and I think that with a bit of lipstick, this kitchen has been completely transformed.
And in the nook? We put in a new light fixture and a custom-made table – made by a fabulous couple who create rustic-looking pieces in their garage! – to match our new space.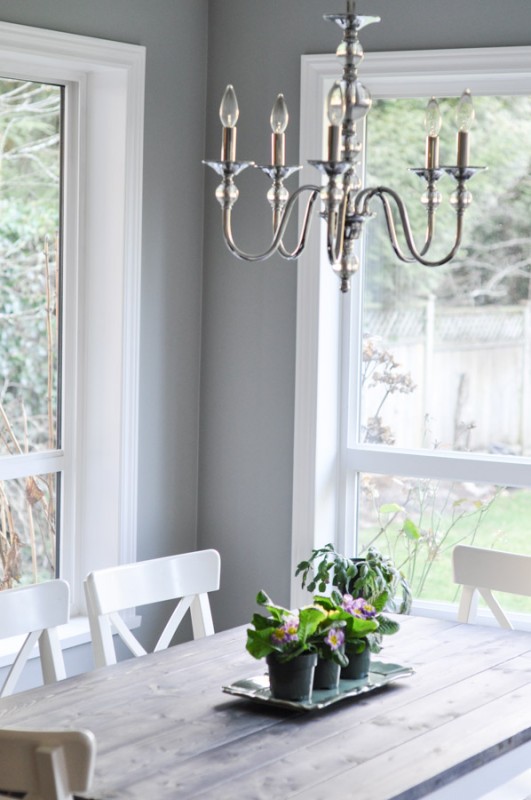 You'll notice we don't have window coverings yet. In due time…
But to those of you who are hovering on the edge of a kitchen renovation, I will tell you – you can do it, and it doesn't have to be as expensive as you think. Reuse or refinish your cabinets! Pick a colour scheme that will stand the test of time. Choose what you love.
The room will become a joy again. And that makes cooking and doing the dishes that much more enjoyable.
Thanks for sharing that Tara!!
Isn't it stunning? I love how Tara took a slightly dated builder basic kitchen and gave it a fabulous updated, modern, and sleek traditional look without going to the trouble and expense of replacing the whole thing! Amazing…
Visit Tara at Suburble, or keep up with her on Facebook, Instagram, Pinterest, or Twitter.